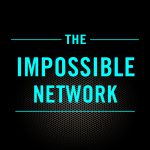 This Week's Guest 
If you missed last weeks' guest was Marcus G Miller.
He was born and raised in Jersey, from a sax-playing accountant father and a schizophrenia suffering Mother, he graduated from Harvard University, became a hedge fund trader before becoming a professional jazz musician and mathematician.
Marcus has since performed at the Obama White House, Madison Square Garden, The World Economic Forum at Davos, The Montreux Jazz Festival, and The Late Show with Stephen Colbert and recently spoke at the TED Summit in Edinburgh.
Marcus is a genuine polymath and is exploring the structural similarities between math, and music, to enable creative problem solvers to unlock their imagination and to 'jam' on the world's toughest challenges.
I hope you enjoy the intellectual curiosity and expansive imagination of Marcus G Miller.
The Podcast we Love 
Big Questions with Cal Fussman has been one of our weekly listens since Tim Ferris persuaded him to start one.
We just caught up on some recent episodes and loved the interview with Muhammad Ali's daughter Hana, three years after Ali's passing.
She talks about her dad and the book she has written called 'At Home With Muhammad Ali.
The conversation opens a window into how life was like in the moments when the cameras weren't around and his unique capacity to connect with the world. What a giant of a man.
What a giant of a man.
We found this online 
As we increasingly seek control over our privacy rights online, China just introduced a new rule requiring face scans of customers signing up for new mobile plans that came into effect Dec. 1, amid widespread adoption of facial-recognition technology across the country.
Read here the piece on the policy is part of a broader push by the Chinese government to limit people's ability to stay anonymous online increasing their fear that biometric data could be compromised.
Is this the state of things to come?
Recommended to us
We have not seen it yet but we have been told that if you are in London a must-see theatre experience is a stage adaptation of Elena Ferrante's The Neapolitan Novels – into a two-part play My Brilliant Friend, five action-packed hours now at the national theatre
Movie of the week 
Diego Maradona
Love him or loathe him  Diego Maradonna documentary is mesmerizing as it tells the story of this celebrated and controversial soccer player as he arrives in Naples in 1984, for a world-record fee. It recounts the miracles he performed on the field and includes more than 500 hours of never-before-seen footage from Maradona's personal archives, and decades-old news footage and interviews with historians and journalists. Wonderful storytelling.
Mulling on this 
We found this article on Fast Company asking the question is digital distraction as bad as we think?
We all know the pitfalls and potential mental health effects of too much screen time, but this piece acknowledges the downsides but also focuses on the upsides of connectivity and the value in seeking many consider to be the ever-elusive balance.
Tools we're Using 
We just installed Google Duo, Google's latest attempt to wrestle share of our time and attention from Apple's Facetime and Facebook's What's App. The value is that this allows simple video calls between iPhones and Android. And Like What's app it offers end to end encryption and its delivered in a simple user interface. So far ..we quite like.
Social Impact 
ou might have missed this but a few months ago AS Roma decided to not only announce new signings but to do so alongside missing children.
The idea from their head of strategy, Paul Rogers, grew out of his love of the story of 90's rock band Soul Asylum, whose video for their hit song Runaway Train also featured missing children."Paul explains that Roma had built up quite a sizable social media presence and going into the summer transfer window, and he suggested that they had an opportunity to do something more meaningful,
Of the 100 plus cases announced, 5 children have been found and rescued. Wonderful vision
Ok, that's all for now. See you next week