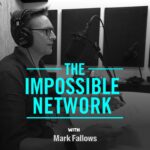 Katz Kiely Guest Overview 
Welcome back to The Impossible Network season 5, where I  interview Storytellers, Difference Makers, and Domain Experts to tell their stories,  invite them to connect with each other, and challenge them to take action on issues and problems they care about, the problems that need solving. Think about it as a live experiment as I work to build action engines for progress…why? Because  Actions matter –  we have enough think tanks.
In the first in my Difference Maker series of interviews, my guest is Katz Kiely – a woman of conviction and determination who has been working to change the world for the better since a child. I describe what Katz does at the start of the interview before inviting her to reveal who she really is as a human and…. what and who made her… a woman of indomitable spirit. 
From 29 minutes in, we dive into the work she has been doing to make a difference in the world, her current impact project Frontline.Live before we discuss her vision and platform, code-named BEEP, to help leaders and organizations nurture work cultures where humans thrive….so their businesses thrive. 
Katz is a human Action Engine obsessed with helping people connect. 
collaborate, and co-create. Be inspired. 
About Katz
Katz is an award-winning digital pioneer, transformation leader, and systems thinker. She has a proven track record of delivering strategic cultural and operational programs that have led to measurable improvements in Employee Experience, employer brand, and operational efficiency.
She has supported some of the world's traditional organizations through change, including the first Open Innovation Platform with HP Labs, rearchitecting the way the UN does business, and designing a city-scale behavior change platform with Intel and the GLA.
She is passionate about using design thinking and digital tech to unlock the full potential of people, judges for digital awards writes for b2b publications, and regularly shares her vision of a more human-centered Future of Work at conferences, including twice at TEDx
She believes that doing good is good business, is the Founder, Chair of Trustees for Frontline.Live and a proud ambassador of the Burning Man Foundation.
What We Discuss 
(3.00-8.00) Katz discusses who she is and what made her?

(9.30) – Self-diagnosed with ADHD 

(12.50) Getting Pregnant and having a child while at University 

(14.15)  How her tenacity manifests 

(16.10) Dealing with fragility and doubt 

(18.00 – 22.00) Her gifts and talents and what she is complimented for 

(26.30) How she fell in love with digital and formed her first start-up Between working with the BBC

(31.27 -35.00) Katz explains her Greatest Show for Earth Idea for innovation

(35.20 – 39.00) Driving digital transformation for the UN and ITU through design thinking 

(42.20-47.00)  BEEP 

(48.20-56.00) The need to use technology to bond and break tribalism 

(1.01.30- 1.04.00) CREAT Leadership  Framework 

(1.07.40-1.12.00) Applying the framework while Running a co-creation design thinking workshop with school children and we discuss education and the need for system change 

(1.15.00- 1.19) Katz explains how she created Frontline.Live 

(1.21.00 – 1.26.00)  How she is pivoting the platform to support Ukraine and the changes she is having to make to the tech platform, and the reality of dealing with international NGOs

1.29.00 – Katz's ambition for the open source value and application of the BEEP platform
Social Links 
Show Links