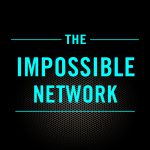 Guest Overview 
Emily Oberman – a partner at the international design firm, Pentagram, was born and raised in New York, to a graphic designer father and illustrator mother, discusses her prolific life in design and branding. 
In part one of this two-part episode Emily recounts the impact of her upbringing based on the idea of art, discovery, and joy, how humor and singing were never far and explains how the work ethic her parents instilled has served her well through her three decades in design. 
Emily discusses how her parents introduced her to Monty Python, The Marx Brothers, and MAD Magazine and how the idea of being a beautiful weirdo has remained with her throughout her career as she seeks out oddness in everyone she meets
We cover Emily's serendipitous journey from studying design at Cooper Union in NYC, her sojourn into film studies and how that set her on her path to a life in design, content, and storytelling. 
We discuss Emily's early design influences, her approach to design and the role of story and ideas in her work. We end part one with Emily recounting how she ended up working under her mentor Tibor Kalman at design firm M&Co 
In part two we explore how Emily met and formed a 17-year partnership, with Bonnie Siegler, in the New York design firm Number17 before we dive deep into her 20 seasons of driving the identity of Saturday Night Live. 
We also discuss her leadership experience at Pentagram and the challenges of combining that with motherhood 
Finally, Emily and I discuss diversity and of course her quick-fire questions and answers.
I hope you enjoy this curiosity, humor and design principles of Emily Oberman 
What we discuss 
The environment of art, discovery, and joy that defined her upbringing

How her parents injected humor and wit in everything they did 

Her appreciation for art, design and the power of idea-driven design 

The impact of her parents instilled in her from an early age

The idea of being a beautiful weirdo 

How she embraces the off and seeks oddness in all places 

Why her family all share that goal of beautiful weirdness

Emily Oberman shares the impact of a teacher who recognized her talent and nurtured it

Emily explains how she introduced her to Greek literature. 

Emily breaks down her decision to go to Cooper Union

Studying acting 

Why she is a worrier

The illustrators she was inspired by 

Emily Oberman and how her love of theatre and film led her to take a year to study acting 

How this led her to love film and ultimately motion graphics 

Design as performance 

Examples of how she approaches design using examples Ready Player One and the women's co-working space, The Wing 

Forming Number17 With Bonnie Siegler

Working for smart good people and products she likes 

The experience of creating the credits of SNL 

The challenge of motherhood and leadership in design

The hard work she has had to do

Driving diversity in Pentagram and leading by example 
Social Links 
Links in the Show