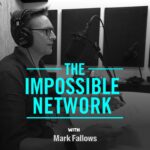 Sav Rodgers
This week, I have the pleasure of revisiting my 2021 interview with the talented filmmaker Sav Rodgers as he unveils his latest documentary, "Chasing Chasing Amy," at the esteemed Tribeca Film Festival. Sav's work is not merely a coming-of-age narrative, but it also offers an introspective journey of his process of reconciling with his identity. He unpacks how the 1990s rom-com "Chasing Amy," directed by Kevin Smith and featuring Ben Affleck, served as a catalyst for Sav to embrace his pansexuality authentically. The film also critically examines the contentious reputation of "Chasing Amy" within the LGBTQ+ community. With compelling interviews including Kevin Smith himself, the documentary stands as a testament to Sav's resilience in the face of prejudice and intolerance, his robust character, and his unwavering spirit of survival. It also showcases how serendipity can unveil promising opportunities.
Given that it's Pride Month, the timing for this interview couldn't be more apt.
Parents of children who identify as gender fluid, nonbinary, or genderqueer will find Sav's interview to be of particular importance.
Sav is an acclaimed writer and director, who is nearing the end of post-production on his inaugural feature, "Chasing Chasing Amy". This documentary elucidates how "Chasing Amy," with its portrayal of fluid sexuality, empowered Sav to live his life authentically as a pansexual, resonating with the movie's tagline, "It's Not who you love, but how."
Following his impactful TED talk in 2017, where Sav delved into the influence of "Chasing Amy," he tweeted about his experience, catching the attention of Kevin Smith. This interaction blossomed into a collaboration on "Chasing Chasing Amy."
During our discussion, Sav and I explored the persisting challenges in media, specifically the limited representation of trans people in shows and films. We reflected on the role media plays in reinforcing LGBTQ+ biases and the pressing need for reformation in the way sexuality is represented in education.
Sav's life journey serves as a beacon for creating the life you aspire to live and showcases how chance encounters can lead to tremendous opportunities.
Sav has profoundly broadened my understanding of sexuality and has sparked in me a desire to learn more. I hope his infectious optimism and vibrant energy resonate with you as you listen to the inspiring story of Sav Rodgers.
Thanks to Yana Buhrer Tavanier for the recommendation
Social Links 
Links in the show