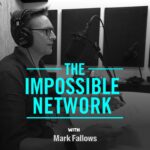 Due to a guest rescheduling, this week we are republishing part two of last year's interview with New York nightlife legend Carmen D'Alessio.
We loved this show not just for the incredible stories she tells, but for what she represents. Carmen is living proof that that reinvention is ageless, energy is infectious, and a reminder of the power of a large network.
If you've not heard Carmen, buckle up, if you have I am it's worth a second listen.
Now over to Carmen
Guest Overview
Born to a Peruvian father, and a Chilean mother, but grew up to become a legend of New York nightlife, impresario co-founder of Studio 54, and to this day not only continues to reinvent herself but also entertainment experiences, is this week's guest Carmen D'Alessio.
In Part two of this interview with Carmen D'Alessio, the New York nightlife legend, impresario, and co-founder of what is often referred to as the greatest club of all time; Studio 54, we explore the untold story of the nightclub's formation.
We start the interview with Carmen recounting her second marriage and leaving Italy and working for Valentino in Rome to return to NYC to build her 'Queen of the Night' reputation.
If you've seen the 2018 Netflix documentary on the infamous nightclub you'll hear the other side of the founder's story on how the sensational nightclub came into existence.
Carmen also recounts her memories of those unparalleled 33 months of hedonism, having her mother around her, and how the era ended and the world changed
We also cover how she's continued to reinvent herself and nightlife experiences around the world
Finally, we cover her quick-fire questions and answers
I hope you enjoy the wit, wisdom, and wonder of Carmen D'Alessio.
What we discuss:
How she moved into fashion
Beginning her career as a nightlife promoter
How a 1976 bicentennial party reported in the WSJ got her on the map
How she met Ian Schrager and Steve Rubel and her collaboration with their Enchanted Garden ended up in Time
How she was forced to invite them to collaborate when her Studio 54 backer dropped out
The evolution of their business arrangement and how that saved her from jail
How the day to day operation worked
Her superpower of connecting people
Spontaneity and living without consequences
How Aids changed everything
Building her list of 8000 names
How nightlife has evolved as she has aged
Carmen's evolution
Staying young, her sense of adventure and freedom
Her mother's lust for life
Acqua fit in her 70's
Confronting conventions
The Gospel according to carmen
Her feeling of youthfulness
Being thankful
Her principles
Establishing an environmental foundation
Her patience and faith
Links in the Show