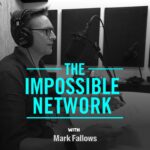 Linda Rislin is this week's guest. She is evidence of how life's path leads us in directions we could never have planned. In Linda's case, a visual designer turned Open Relationship Coach.
Born to Haitian parents, Linda was born in New Jersey and grew up in an inter-generational home and at the intersection of diverse cultures.
In part one Linda discusses the early years, her catholic education, her immersion in American culture, and the clash with Haitian values. She explains the influence of her parents on her character development, her mother's faith, and her father'ss levity.
Linda discusses how growing up with scarcity guided her to seek financial security in a marketing role at Vimeo. Upon discovering how unfulfilled she felt Linda describes her career migration into visual design and the resultant impact on her life satisfaction.
We end part one there and in Part two we cover Linda's journey to becoming an Open Relationship Coach.
Linda discusses how she and her partner evolved from a monogamous relationship to embrace open relationships.
She reflects on how her previous relationship mode was based on the pursuit of finding a husband, the impact of her Haitian culture on how she perceived relationships, rather what she now calls seeking a life adventure partner.
Linda discusses fear, the concept of soul mates, how previous relationships shaped her behavior and becoming her individual authentic self.
Linda explains her early experience of open relationships, adult play-parties, and being 'Monogamish' and reflects communication, women's roles in romantic culture, and the human condition.
Linda discusses how she has applied her experiences in Open Relationships to help other women navigate open relationships, help them speak up and how she helping them deal with relationship stigmas and propaganda.
We also discuss the impact on mental health, the economic impact of empowered relationships, and how she works with therapists as part of couples therapy, being true to oneself, cultivating openness and honesty
I hope you enjoy the convention confronting candor of Linda Rislin.
SOCIAL LINKS
LINKS IN SHOW