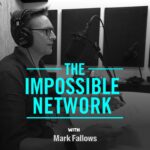 This weeks bonus episode we go back to episode 76 where we interviewed Carmen Medina – the ex-Deputy Director for Intelligence at the CIA.
We pick up this episode where I ask Carmen about her perspective on the state of the World today and the direction we are headed. Carmen discusses the web of causality, our interconnectedness and her perspective on communications, and being heard in a polarized environment and she values failure. 
Carmen is a deeply reflective woman that lives by the principles of playfulness and kindness. 
I hope you enjoy this short dose of optimism with Carmen Medina.