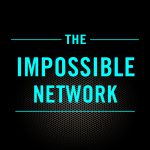 Hi everyone,
It was Super Bowl weekend and we loved many of the ads. Our gut reaction was this; Google nailed the emotional heartstring pull, Hyundai made us laugh, Budweiser could have gone further (but well done) and we respect Michelob for environmental standard-setting and finally it was Jeep's Groundhog Day ad with Bill Murray that we just loved.
Remember if you have any interesting stories you want us to share, email us at info@theimpossiblenetwork.com
First the Podcast, we loved. 
FEARLESS – CARL JOHNSON FOUNDER OF ANOMALY 
If you want a creative booster shot and inspiration injection then have a listen to what host Charles Day highlights as 'timeless', 'universal' and 'valuable insights' of Carl Johnson. As an agitator for creativity in its broadest sense, Carl discusses the barriers
"Irrelevant creativity is a waste of time and money. Harnessed, focused, disciplined creativity applied to a business problem is awesome. The debate is not creativity or commerce, it's creativity in order to create more successful commerce"
As a deviation from the norm, they use any tool they can to solve a clients business problem, Carl discusses why their keys to success are based on pursuing clarity, all day every day on every level on every subject, and how this is applied to problem-solving, hiring for values, not skills.
We found this online 
TIM URBAN WAIT NOT WHY
We have been reading the mind-expanding blog posts of Tim for some time.
These are not for the short of attention. Tim goes deep.
His latest series, called the Story of Us is a ten chapter multi-post series. #Today we suggest you read chapter eight – It's 2020 and you're in the future.
Here is a taster…. "It's finally the 2020s. After 20 years of not being able to refer to the decade we're in, we're all finally free—in the clear for the next 80 years until 2100, at which point I assume AGI will have figured out what to call the two decades between 2100 and 2120.
We now live in the 20s! It's exciting. "The twenties" is super legit-sounding, and it's so old school. The 40s are old. The 30s even more so. But nothing is older school than the Roaring 20s.
We're now in charge of making this a cool decade so when people 100 years from now are thinking about how incredibly old-timey the 2020s were, it's old-timey in a cool appealing way and not a boring shitty way.
It's also weird that to us, the 2020s sounds like such a rad futuristic decade—and that's how the 1920s seemed to people 100 years ago today. They were all used to the 19-teens, and suddenly they were like, "whoa cool we're in the twenties!" Then they got upset thinking about how much farther along in life their 1910 self-thought they'd be by 1920.
In any case, it's a perfect time for one of those "shit we're old" posts.
So here are some New Years 2020 time facts"
Click the link in the show notes to read on and enjoy this amazing series.
Recommended to us
AVOID PASSING THE POINT OF NO RETURN 
This timely, mind-expanding perspective from Martin Weigel from Wieden & Kennedy Amsterdam was recommended by Alexandra Mecklenburg @petite_ that reinforces the need for a new narrative on the role of corporations and political leadership in what is becoming an increasingly risky void. I recommend we all read and connect on this urgent issue.
Social Impact
FUNDING FREEDOM
Charitable giving is complex. Uncertainty over who to donate to; a lack of trust; time to research; and knowledge about where the donations go; often leads to donations being directed to low impact organizations.
Every donor wants to know that their money is helping those most in need but ironically they often require money or in the case of grants to be offered on an unrestricted basis. 
Finally, if you missed last week's podcast guest it was Josh Spodek – Host of Leadership In the Environment Podcast
Listen to Joshua Spodek is the epitome of a renaissance man. A two-time TEDx speaker, #1 bestselling author, host of the award-winning Leadership and the Environment podcast, and professor and coach of entrepreneurship and leadership at NYU and Columbia Business School.
He is a regular speaker on environmental leadership at institutions such as Boston Consulting Group, Google, IBM, Harvard, Princeton, West Point, MIT, and Stanford,
Oh he also has a PhD in astrophysics and an MBA from Columbia, helped build an X-ray observational satellite with the European Space Agency and NASA, and so much more.
In part one we covered Josh's upbringing, the impact of his parent's divorce, education, dealing with insecurity, his curiosity. discovering his love of math and science, finding joy in discipline and his evolutionary approach to living.
We also went deep into Josh's commitment to influence and invite the guests he interviews on his podcast and the corporate clients he consults to embrace personal behavioral changes that will impact on the environment. Josh explains the process of taking actions and joy that results from the values he lives by.
We also discussed why his approach can be embraced by anyone willing to live more sustainable lives. I hope you enjoy the intellect, inspiration, environmental action and leadership principles of Joshua Spodek
In Part two Josh explains his self developed,  habit-forming technique called SIDCHA and breaks down the step by step approach that anyone can embrace to create more positive habits and behaviors in their life. Josh also invites me to take on my personal environmental challenge.
We discussed the broader environmental challenges facing society and the planet before jumping into the rapid-fire. Questions that turn out not to be rapid-fire answers. I hope you enjoy the intellect, the inspiration, the environmental action, and the leadership principles of Joshua Spodek.
We also cover Josh's mission – to help people live by their values, especially their environmental values, creating and finding joy, meaning, value, importance, purpose, passion, and other emotional rewards in the process.
That's all for now.