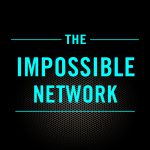 Welcome to The Impossible Network. This is just a short episode to say we reached our 30th episode last week and with that event, we ended Season One of The Impossible Network. 
Over the next 5 weeks until the next season starts we will be posting our reflections, questions, and perspectives on some of the big themes from season one: 
The impact of parental support 
The damage of abuse
The character to survive it 
We'll talk more about the power of curiosity 
Creating environments where creativity can flourish
We'll explore resilience, grit, and determination
Risk-taking, fear, and failure 
Why we think serendipity can be engineered
The principles that connected our guests 
And of course, we'll reflect on what we consider possible. 
If you're new to the show and haven't listened to some of our early episodes I'd encourage you to listen to Tyrique Glasgow, Michael Ventura, and Merritt Moore as starters. 
We have some captivating guests coming in series two including visionary impresario behind  Studio 54 Carmen D'Alessio and renowned New York Gallerist Jose Freire, and many more. 
Reflections start next week.
As ever, stay curious, be creative and be open to serendipity.